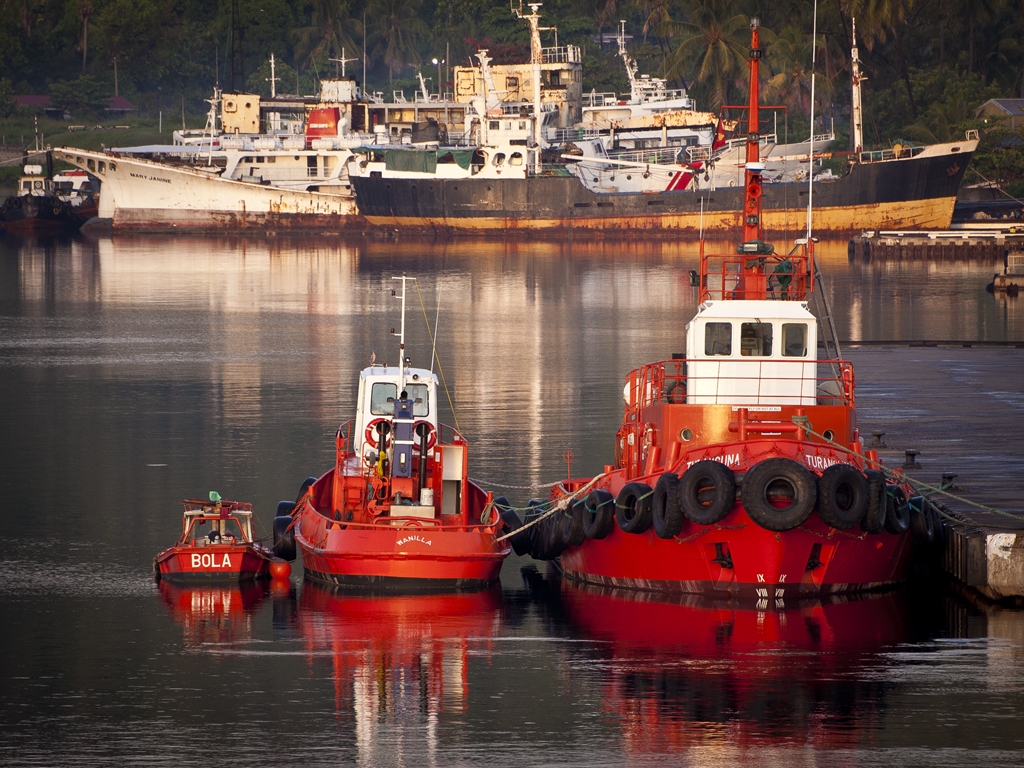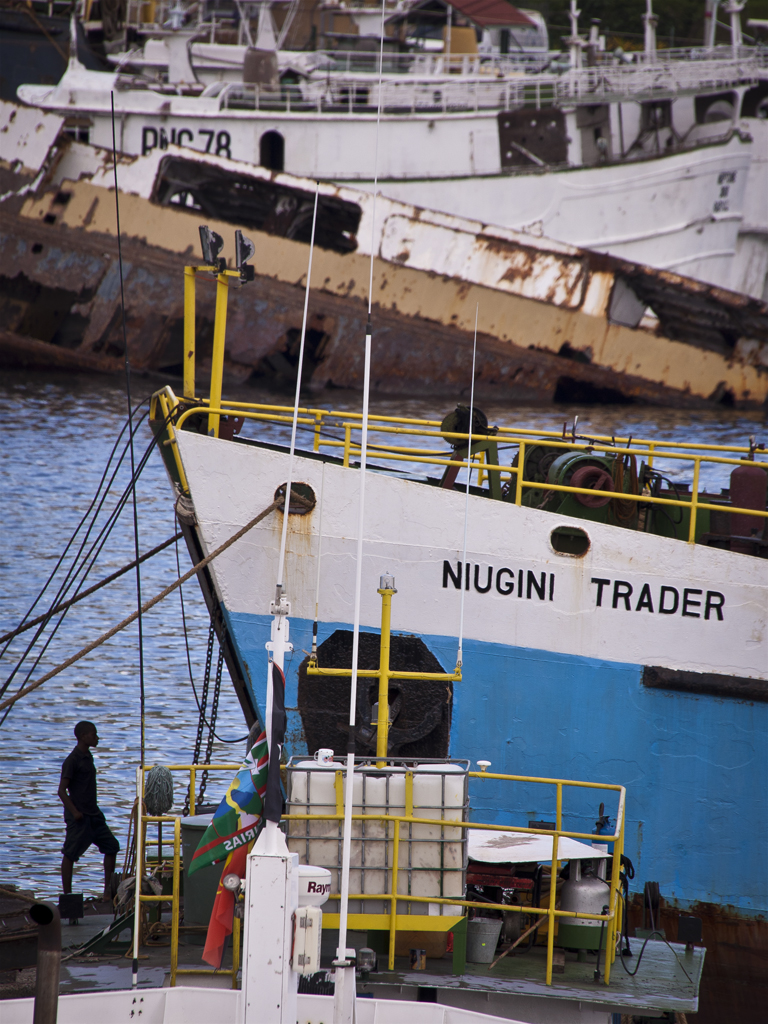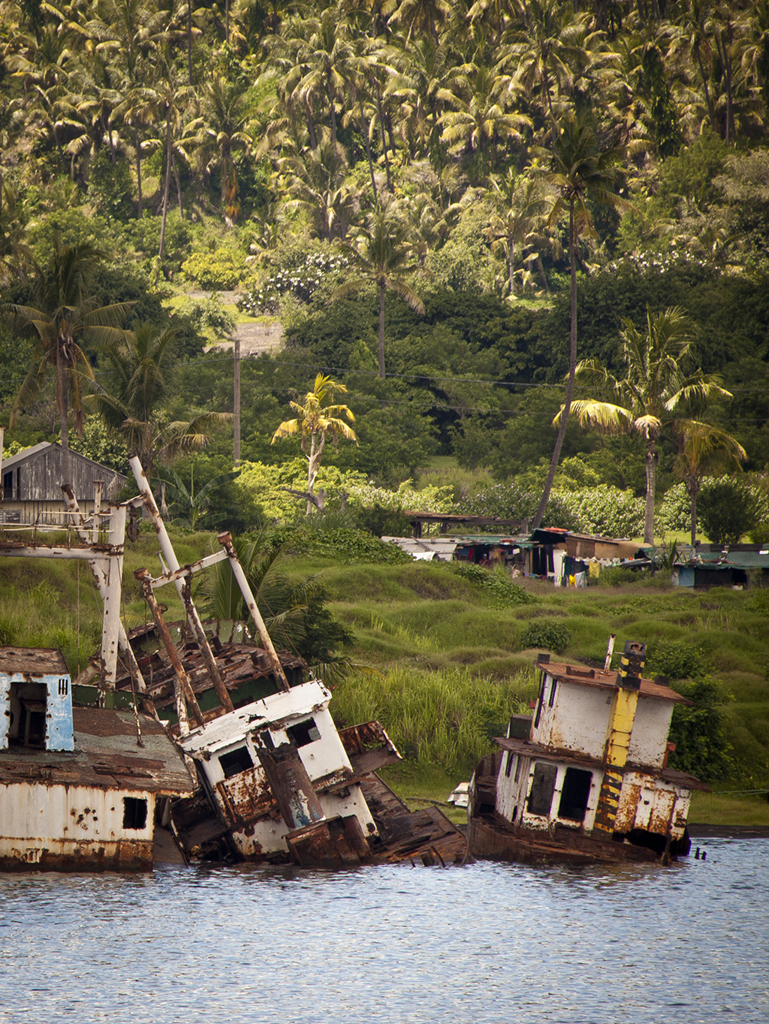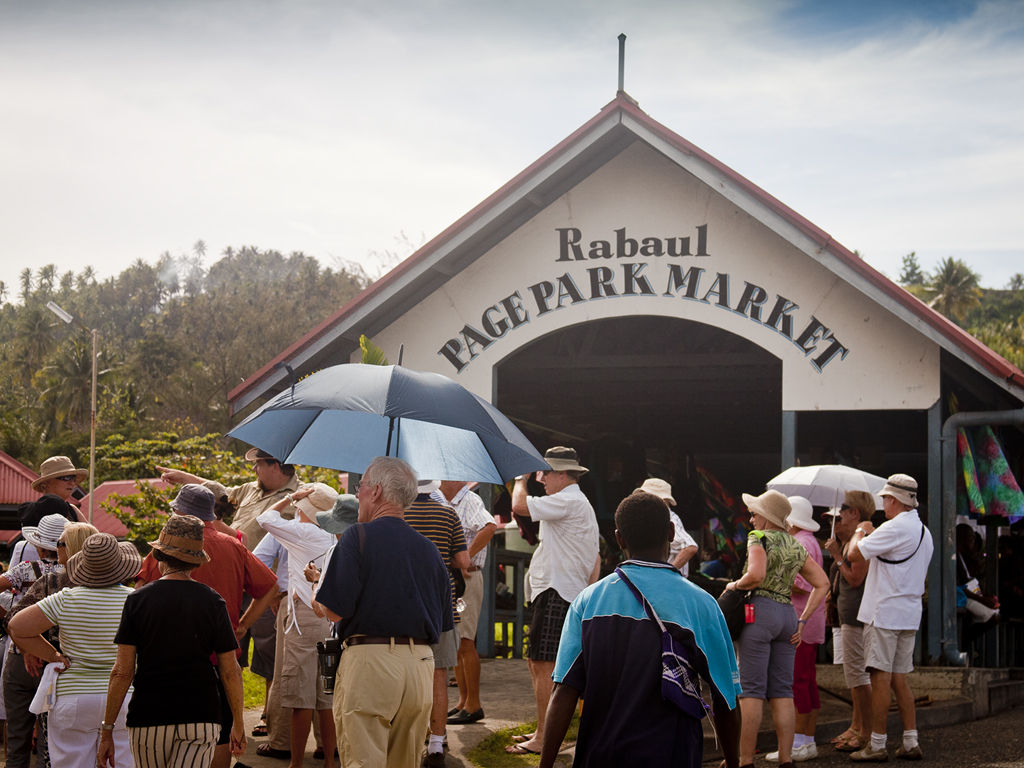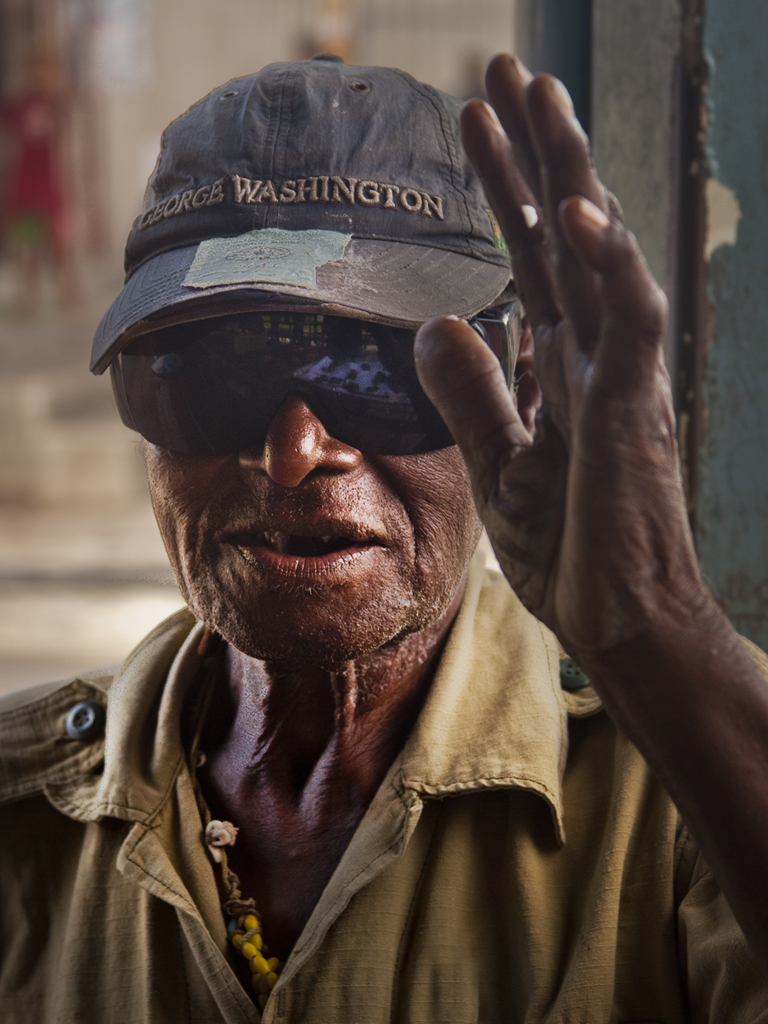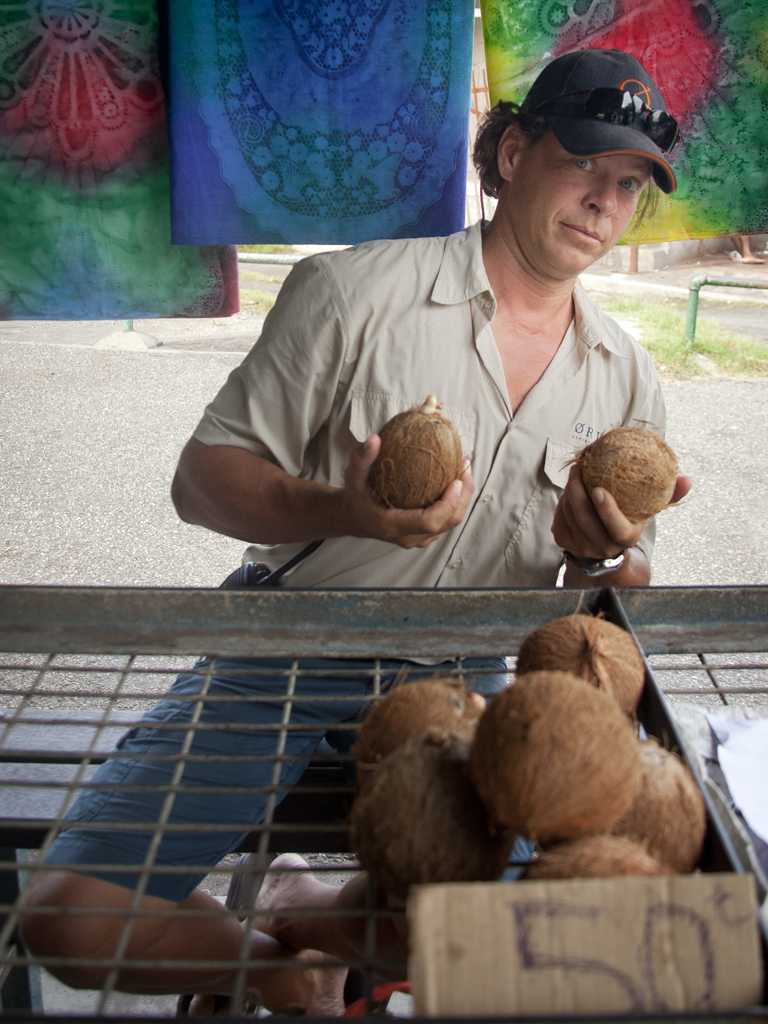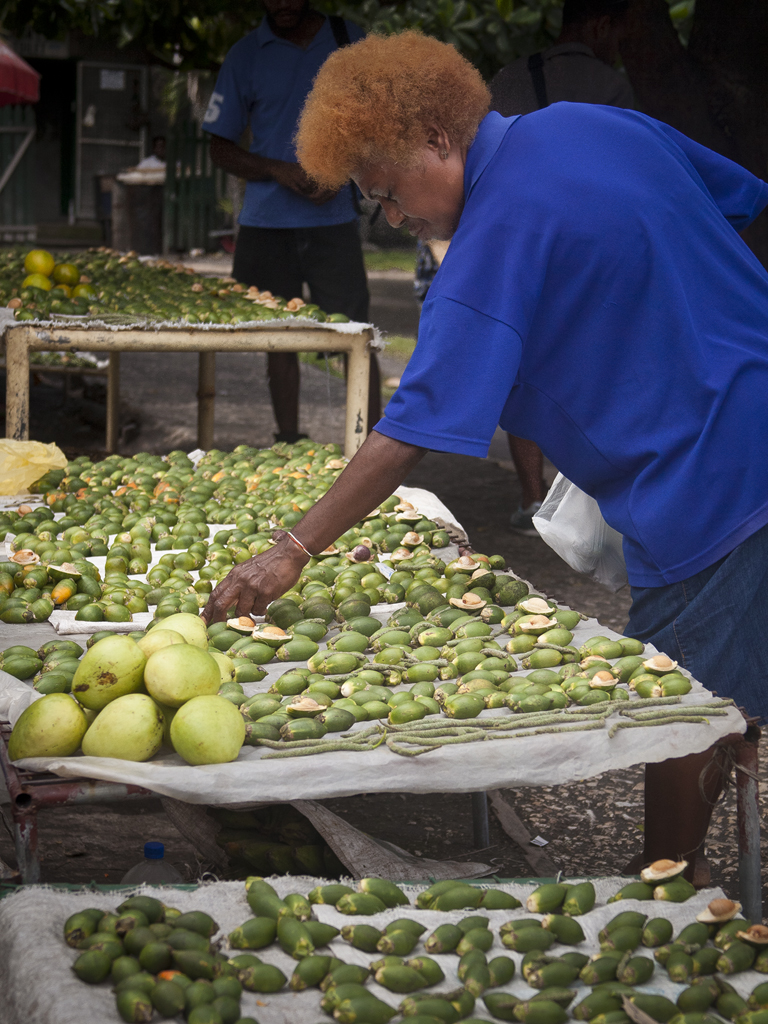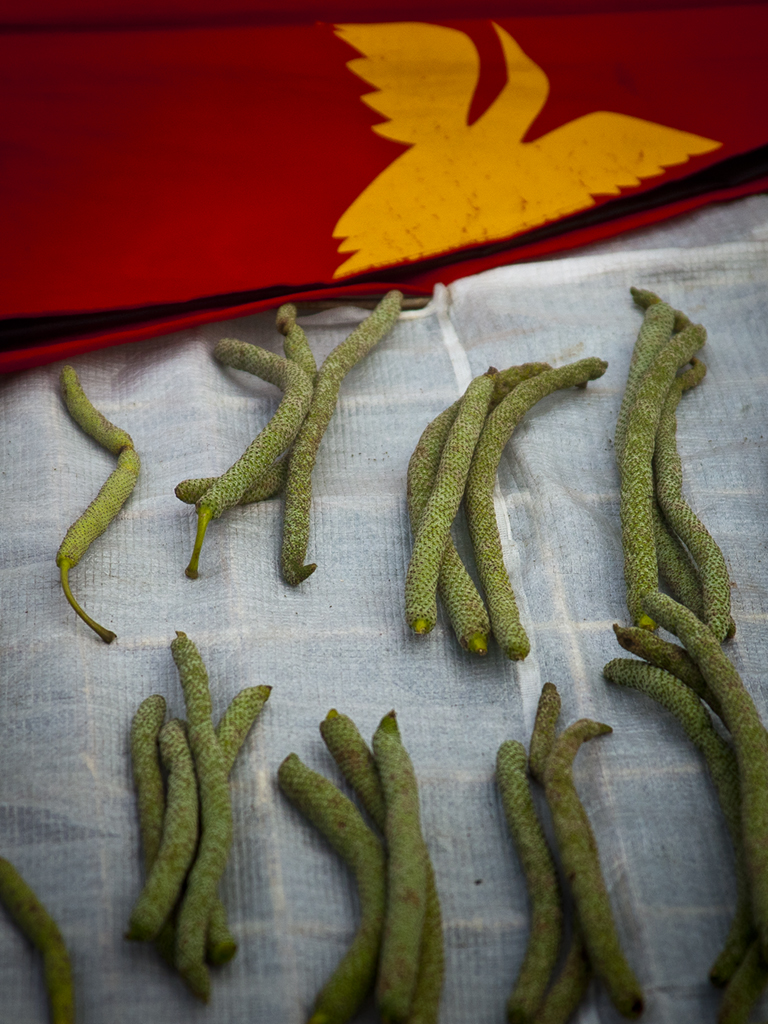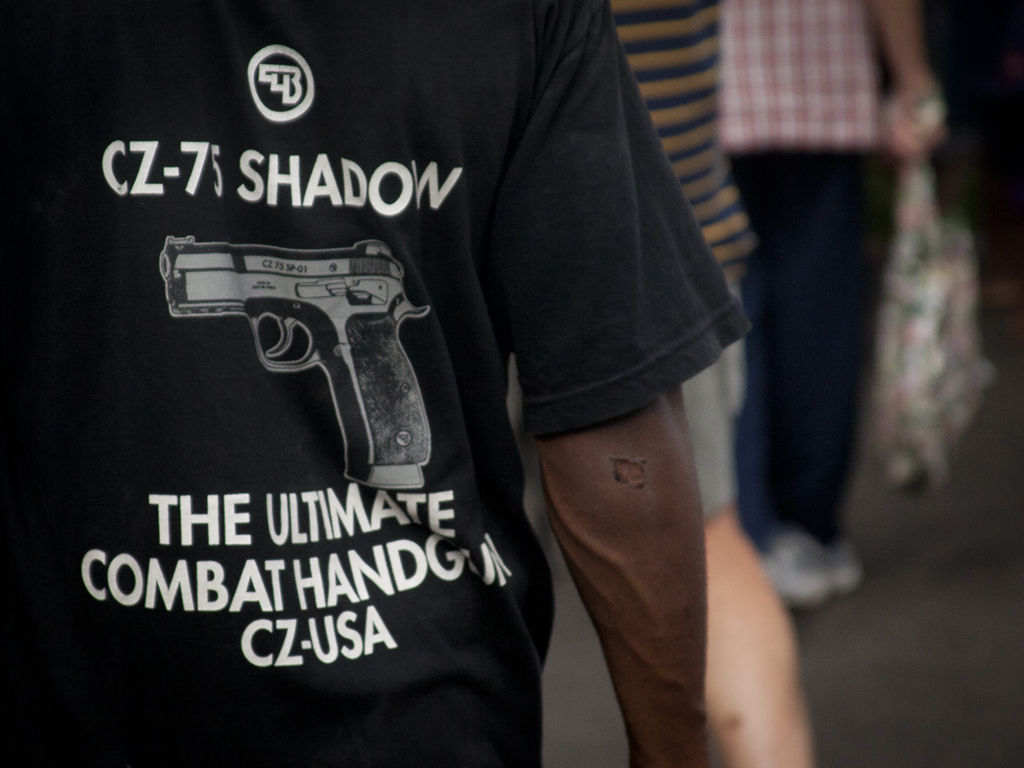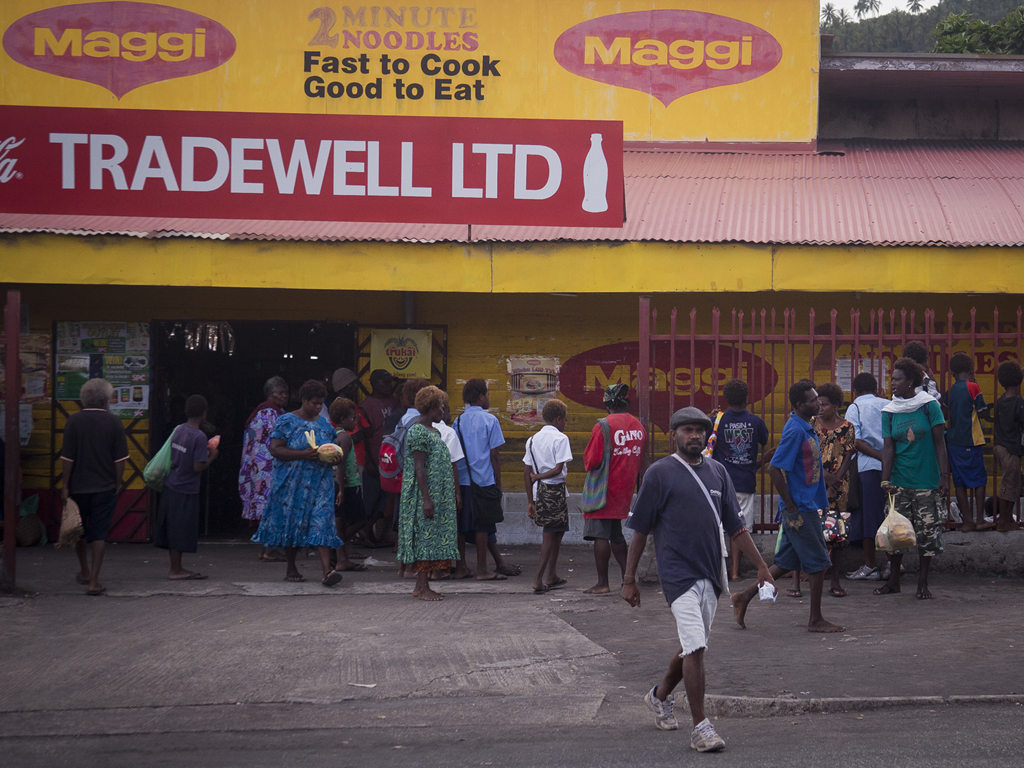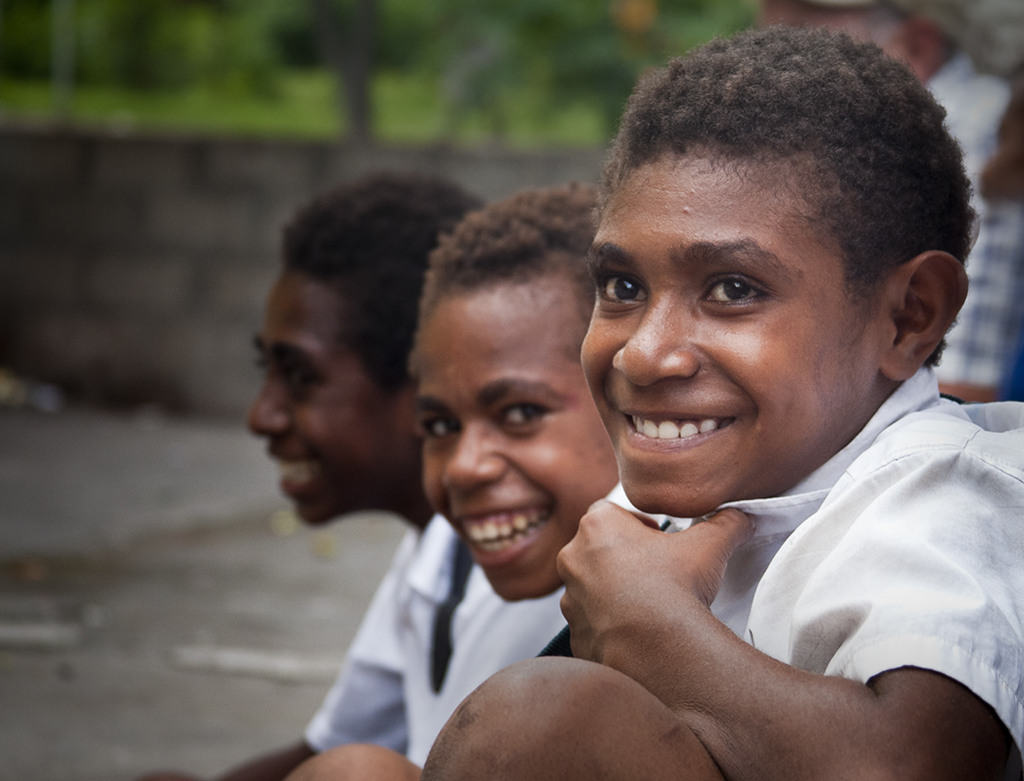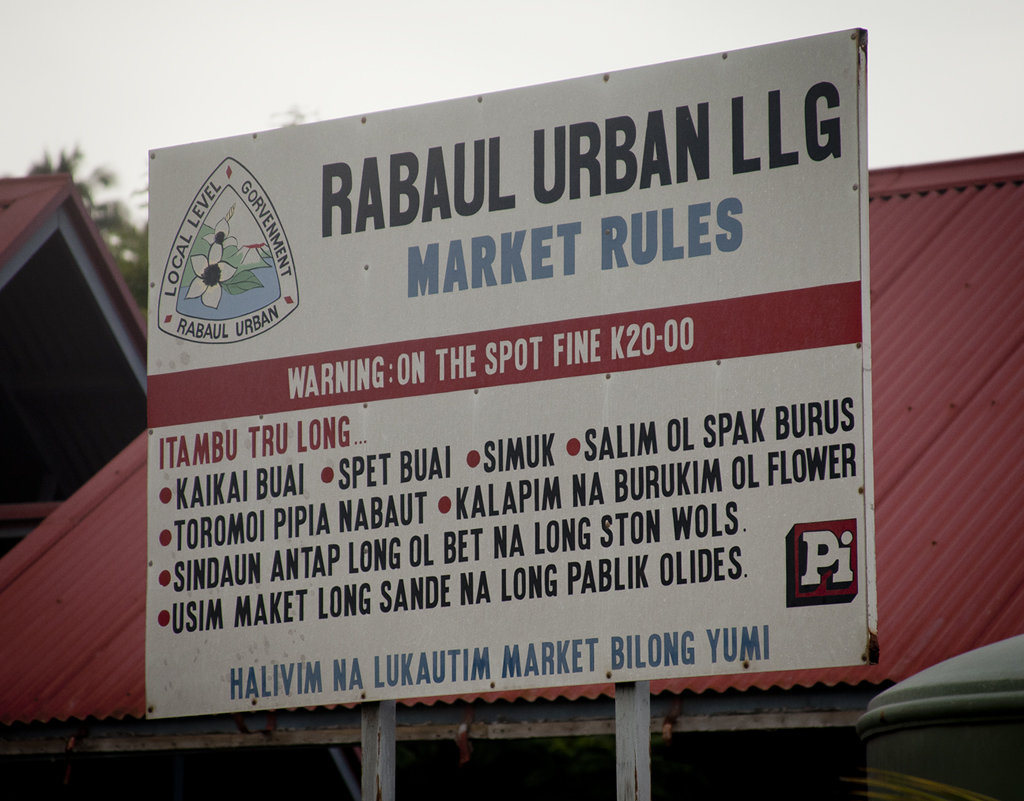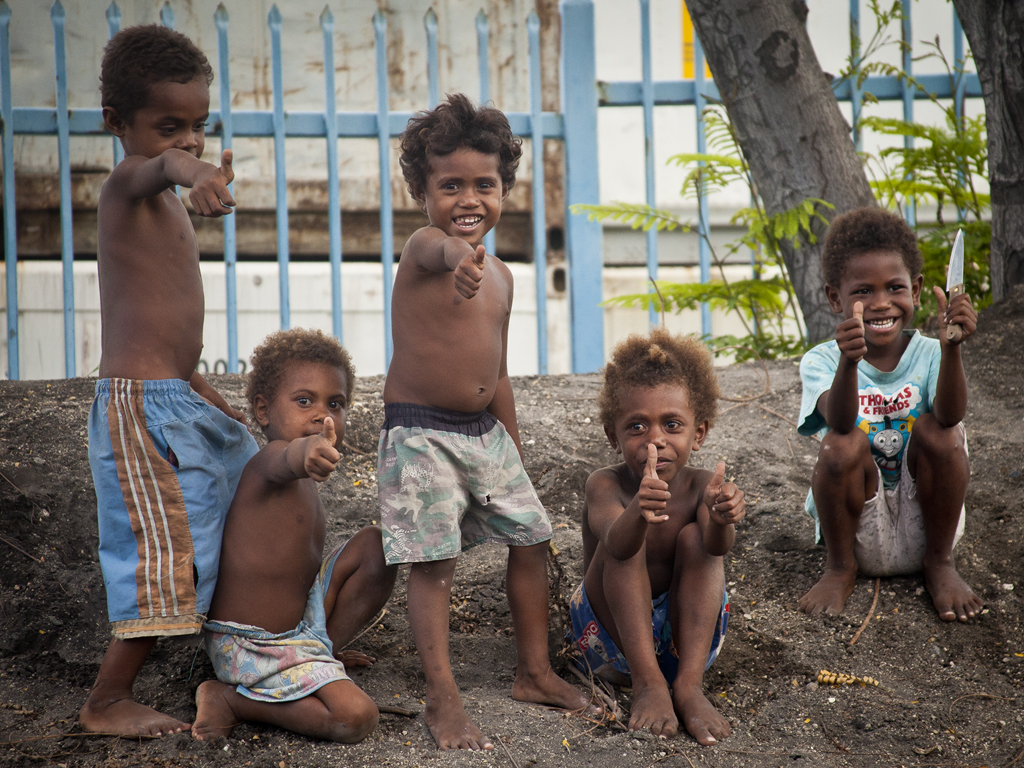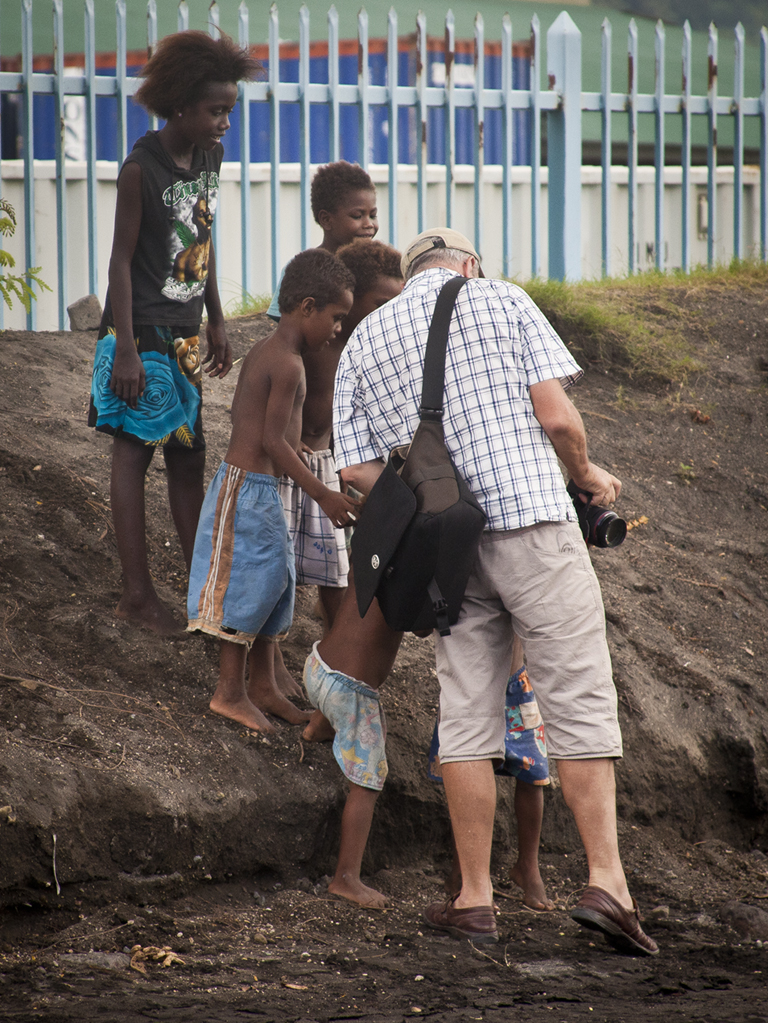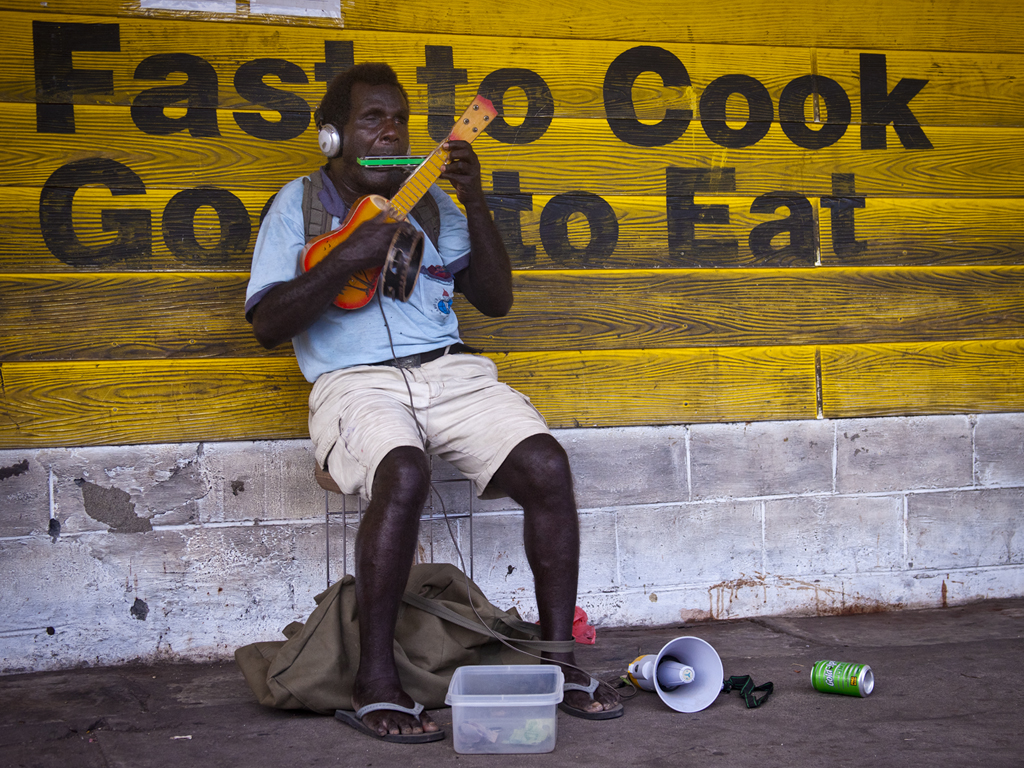 Rabaul
Ooopps almost missed that damn sunrise again but I made it just in time to get a shot of the of the volcano reflected in Simpson Harbour.
Sunrise across the Harbour

Before we head off for breakfast and more farewells, I take the opportunity to walk around deck 6 and photograph the area around the dock.
Red Tugs - Niguini Trader - Abandoned and rusting boats
Today is the day we say goodbye to all of the friends we have made on this first leg of our journey through Papua New Guinea. It's been great meeting Nick and Peter, they are truly inspiring and have without a doubt inspired me. Jennine, Nick's wife, what a gal, I'm not sure how far Nick would get without her ☺
There are 8 people, including Kelly and myself, continuing on for the second leg around New Guinea. The rest of the passengers will be disembarking and heading to the airport around 10am. Orion has arranged a charter flight from Cairns to Rabaul to bring in the new passengers for the second leg and take home all of the current passengers.
During the time between the current group leaving and the new group arriving, the ship will have a complete makeover with all of the cabins and public areas being thoroughly cleaned and prepared for their new occupants. It's a pretty hectic time and Kelly and I will be in amongst it all trying to finish off shooting the cabin panoramas. The other 6 continuing passengers will be heading out at 9am for a expedition and should be back about 3pm. The remaining passengers will be disembarking at around 10am to head to the airport. This will give Kelly and I a couple of hours to shoot some more panoramas.
Well the 6 passengers have left on their expedition and we are just saying our last goodbyes when there is an announcement on the ships intercom that the charter plane from Cairns has been delayed and hasn't taken off yet. After the announcement everyone relaxes again and has an hours grace to enjoy the ambience of the Orion once again.
About an hour later, just as the anticipation of leaving reached it's peak, a new announcement asking us to meet in the Leda lounge is broadcast. We made our way there where Captain Frank announced that the flight was not going to leave Cairns today. Even though a replacement plane had been found because the crew had logged too many hours they would not be allowed to fly!
Captain Frank went on to tell us that the guests departing Rabaul would stay on the ship another night and the guests departing Cairns would stay in a hotel at Cairns for the night.
So after all the farewells said the night before and this morning we are still stuck with them!
The next couple of hours are pretty frantic with people phoning home and to travel agents to change their travel plans. I can only imagine what sort of organisational hell is going on behind the scenes. A further announcement is made that the bar will be an open one until the passenger swap is done. All in all I think most of the people on Orion and okay with the situation.In order to keep everyone busy, as if they weren't busy enough, Justin and the expedition crew have arranged a tour of the local market. So we go grab our gear and get ready to head out. We form up our group down on the docks and head on out past the main gates to walk up to the town centre along Malaguna Road. Even this far from the volcano you can see quite a build up of ash on the sides of the road. We head up to the main street and everyone seems surprised but happy to see us walking toward town.After about 15 minutes we arrived at the main entrance to the Page Park Market and it was full of activity with people buying all sorts of produce and goods.
Justin pointing out landmarks in front of the Page Park Market
Just inside the entrance was an old man selling coconuts and Mike was sitting talking with him.
Coconut Seller
Mike with a couple of coconuts
The market is large and covers quite an area with stalls selling everything from bags to tobacco to betel nuts. In fact there lots of produce I'd never seen before.
Woman buying betel nut
When you chew Betel nut you need three things. First, obviously betel nut, second you also need Mustard sticks and third, Lime. Once you are chewing the nut you can dip the mustard stick in the lime and then put it in your mouth. Here's a betel nut
"how to"
course.
Mustard stick (Daka)
Young girl selling bananas
The market is such a visual treat with lots of sounds and colours including this somewhat threatening T-shirt!
Handgun T-shirt
Across from the market there was a supermarket and a crowd of people watching something. I could also hear music coming from that direction so I thought I'd take a look.
Local Supermarket
Sitting in front of the supermarket was an old musician playing a combination of ukulele, hooked up to a megaphone, tambourine and harmonica.
Old musician
I sat down on the ground with a group of school kids and watched him perform.
School kids watching the performance
Heading back to the market I caught up with Kelly again and we were sitting in front of a large sign that said "Market Rules" that warned of a on the spot fine of 20 Kina, which is about $8 Australian.
Market Rules sign
Unfortunately all of the things you cannot do are in pidgin, so I had no idea of what you could be fined for! Mike on the other hand speaks and reads pidgin so he gave us a rundown of the list. Now I can't remember it all but I think some of it goes like this. If anyone has better translations I'd love to know them.
Hey Justin has just commented and provided translations:
Itambu tru long - It is forbidden to
Kaikai Buai - Chew Betelnut
Spet Buai - Spit Betelnut
Simuk - Smoke
Salim ol Spak Burus- Sell Marijuana
Toromoi Pipia Nabaut - Throw Rubbish About
Kalapim na burukim ol flower - go and damage the plants
Sindaun antap long ol bet na long stone walls - sit down in the garden beds or on the stone walls
Usim maket long sande na long pablik olides - use the market on sunday or public holidays
halivim lukaut long maket bilong yumi - help to look after our market
Check out Justin's blog - Ramblings of a Global Citizen

We decided to walk back to the ship rather than take the shuttle bus and this time we took some back streets. Close to the docks we came across a group of kids who wanted us to take their pictures.
Kids near the docks
It's interesting to see, after so long, how high the ash wall is next to the roadway. You can see it in this photograph of Michael showing the kids the shots of them he just took.
Michael showing the kids their photos.
By the time we'd arrived back the 6 other passengers who'd gone out for a days expedition, thinking that on their return, they'd be welcoming a whole new group to the Orion, were incredibly surprised to find out everyone was still onboard.At the evening briefing we were informed that everything was being resolved back in Cairns, the expedition team were busy working on an alternative travel destination know that we were going to be a day behind and that disembarkation would be as planned for tomorrow morning.Kelly and I decided a quiet night with a bit of room service was in order and we headed down to the cabin.